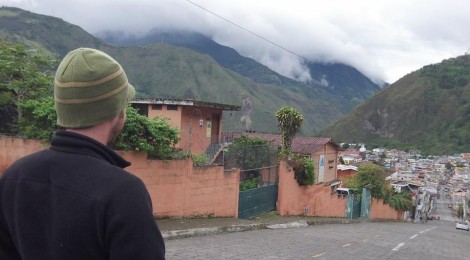 My First Time Lost in a Foreign Country
Before you start reading this, I'm obviously OK. This story isn't that big of a deal and there are much worse situations to be in. No worries Mom and Dad.
That all being said this was my first experience not really knowing where I was while being a few thousand miles away from home. While it was going on I mostly kept calm by thinking about how I would describe it in writing when I got home. I figured I'd do past me some justice and put it down in words here on my blog.
I was drunk. It was about 5:00am. I was in a park hanging out with some new friends. In Colombia it is legal to drink in the park. Vendors on the street actually sell alcohol. It's also common to stay up drinking past sunrise. Much fun was had obviously.
I had separated from my roommates at the club because they wanted to go home and I wanted to go back to the park where we had started drinking to drink some more. It is my first week here in Medellin and I was happy to be making some new friends. I was going to walk back later on my own. I knew the way by foot and wasn't worried about it.
After a while at the park I saw my new friends off in a cab. They were worried about me getting home OK because I was so new but I assured them I would be fine and started to make the journey on foot.
After a minute of walking I saw a cab. Since a 5 minute cab ride home costs less than 2 dollars I decide to wave him down. Why not right…
The driver doesn't speak any English. I don't speak much Spanish at all. This has been a pretty common experience. I tell him my address and he looks a little confused.  I basically tell him it's OK and I know the way and jump in.
Here comes the first problem. We are on a big one way street. The driver is driving down it and I try and tell him to turn around. He doesn't understand. I start signalling with my hands and he keeps driving down the street. Immediately I start wondering if he is messing with me because sometimes the taxi drivers do that to non-locals.
I tell him my adress again and he tells me "si" and finally gets to a place to turn around. He pulls up a street instead. I say "No No No Calle quince B" (My address) and he says "si, si!". Again I wonder if this guy is messing with me. We have already driven past the last place I recognize in town a little while ago and now I am seriously starting to get nervous. I didn't care if he was trying to charge me extra much at all (I was drunk after all) but I did not want to get lost in a foreign country. Did I mention I didn't have a cell phone yet?
He pulls up to the top of this long street and it's a dead end. He looks at me confused like he brought me were I said and we weren't at my house.  It's at this point I can tell the guy is actually really sorry and confused as to why we aren't at my house. I began to curse myself privately for not knowing Spanish. How ignorant of me I thought. How could I put myself in this situation?
I tell him to go back. He doesn't get it. After some more awkward hand signals and frustration handled well by both of us I get him to drive me back towards the park I was at. If we can do get there I know how to get home walking.
We get back to the park and start to head back the way I know. Great right? Wrong. I walk the wrong way down one ways and I didn't realize it until we were in the cab trying to go back home. Again we end up in a place I do not know and I do not know how to explain to the driver how to get back.
My heart is racing and my breath is getting quicker. I decide that getting upset will do me absolutely no good and I calm myself. I know that I can only make it worse by losing myself.
I think of the biggest landmark I can and tell him to bring me there. He does. From there again I attempt to guide him to my house. We get close but the streets here are full of one ways and confusing. I have him pull down a sidestreet I recognize and have him let me out of the taxi. I can tell he is genuinely concerned for me.  The ride was about 30 minutes and the cost was $7. He tries to tell me he will try to bring me home at no extra cost. The man was incredibly nice. Wanting to put my future in my own hands I decline, thank him very much in Spanish (I do know a little), and get out of the cab.
I spend the next 20 minutes walking. I thought I knew where I was but everything is different at night. I'm trying to get my bearings by looking at the mountains around me but it's almost impossible. There are fences above my head that I try and climb to get a better view. Nothing helps. The sky is getting a little more dark blue instead of black at this point.
I begin walking back to the club. I know I can get back from the club. I'm drunk and I'm tired. I think I hear my name but I write it off as me being crazy. I keep walking. I hear my name louder. I turn around. My roommate Tim is running down the street towards me. Holy crap.
The other interns  thought I didn't have keys (I did) and when they were sitting at the table discussing it they decided to launch a search party. Lucky for me (and them) they found me really close to the house. I was so insanely happy to see them.
Around 6:30 we sat around the kitchen table eating my boss Mark's leftovers (sorry Mark)  talking about our night.  I thanked them about 10 times and headed off to bed safe and sound.  Thanks again Tim and Phil for looking for me. I can't say it enough. Now it's on the internet!
It all could have been way worse. I have to learn Spanish.